Glossy 1001 Weathergold 2000 Pro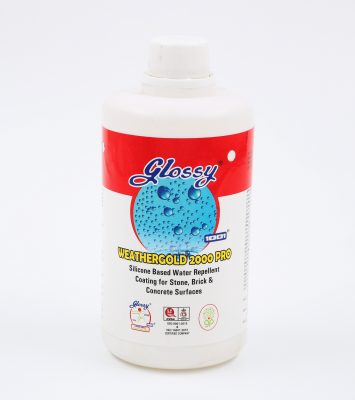 GLOSSY 1001 WEATHERGOLD 2000 PRO
SILICON BASED WATER REPELLENT COATING FOR STONE, BRICK AND CONCRETE SURFACES
Glossy 1001 Weathergold 2000 Pro is composed of Siloxane & Silane polymers dispersed in high boiling point solvent. It is used for water proofing of concrete & cementitious vertical walls of building because it penetrates deeply into the substrate & provides an effective water repellent protective costing. It does not change the appearance of the substrate & the water repellent coating is UV resistant and durable.
Areas of Application
Water proofing treatment for –
Cement painted surfaces
Concrete, mortar
Clay brick surfaces
Natural and artificial stones: Marble, Dholpur, Sand Stone, All Porous Stone
Mangalore tiled roofs
Corrugated AC sheet roofing, etc
Features & Benefits
Ease of application-Ready to use, simply brushable or spray applied.
Staining-Clear coating does not stain the treated surface.
Appearance-Does not change the appearance of exterior decorative coating.
Vapour transmission – Prevents entry of moisture into the wall, but allows moisture to evaporate out
Efflorescence – Prevents efflorescence
Economical-Cost effective
Penetration – Due to low viscosity, penetration is high, which provides the hydrophobic zone.
SURFACE PREPARATION
Surface should be dry and free from all debris, dirt, oil, grease, wax and all other contamination, which could prevent penetration.
Clean the saturated dirt of surface by thorough wire brushing, cleaning with compressed air followed by water washing.
Decrease oil & grease by using solvents like turpentine or thinners.
Allow the surface to dry completely before the application.
Seal the cracks with GLOSSY FILLING POWDER
Thorough wire brushing followed by sanding with emery paper is recommended.
Remove the existing paint, Nero or instant lime, etc, while treating internal damp walls.
APPLICATION
Apply one liberal coat of Glossy Weathergold 2000 Pro, simply by brushing evenly on the prepared surface.
Allow the surface to dry for a minimum of 24 hrs for best results.
Glossy Weathergold 2000 Pro can also be applied with an airless spray (0.07-0.1 N/mm2 pressure).
Apply second coat wet on wet to improve the penetration rate & performance.
Allow it to dry for 24 hrs.
Precautions
Do not dilute with water or by any other means.
Close the container lid properly after use.
Before applying over the natural stones like sand stone or Dholpur, sampling should be done on a small area to check its suitability.
Before taking up application on a large area, it is advisable to check the performance of the product on a relatively small area.
Coverage
On porous substrate-               5-6 Sq meter/litre
On Low porous substrate-      7-8 Sq meter/litre
Shelf Life & Storage
Shelf life is 12 months from the date of manufacturing in unopened condition
Store in a cool & dry place:
Health & Safety Precautions
Use rubber hand gloves & safety goggles, while using Glossy Weathergold 2000 Pro
Keep out of reach of children.
In case of contact with skin, wash with plenty of water.
Do not smoke during application.