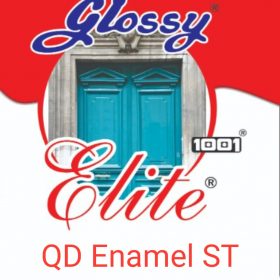 ELITE QUICK DRY (QD) ENAMELS
Description :

This is an economy enamel that is ideal for interior use. It gives a glossy and durable finish and is suitable for wood, steel furniture and various other household items.

Thinning :

Thinner 024T

Uses :

Protection of Metal, MS and wooden surfaces

Finish :

Glossy or Matt

Application :

Brush or spray

Covering Capacity :

13 to 15 sq. metres per litre per coat depending on the surface and shade

For Metallic shades, covering is between 10 to 12 sq m per L per coat

Drying Time :

S.D.- 3-4hrs. H.D.- 6-8hrs. T.F.- 24 hrs.

Color Range :

 Glossy Enamel Shadecard

Packing :

500 ml, 1, 4, 10 & 20 litres.

Highlights :

Provides higher covering than economic range of enamels available in the market

Shelf Life :

12 Months

Flash Point :

Above 38°C

Undercoats :

1001 Cement Primer White/ 1001 Red Oxide Metal Primer/ 1001 Zinc Phosphate Primer

Directions of Use :

The 1st coat should dry for at least 8 hours, if not overnight. For superior adhesion and gloss, the 1st coat should be dry/wet cut with waterproof emery paper no. 320 before the 2nd coat is applied

Application Areas :

On metal, MS and wooden surfaces.
Elite QD Enamel ST
WHITE, Magenta, Wild Purple, Wild Lilac, Lemon Green, Purple, Any RAL Shade, All other shades
GROUP I
AD Grey, Black, Bay Brown, Golden Brown, Phirozi, Smoke Grey, Bus Green, Mercedese Red, Sky Blue,Teak Brown, Pale Cream, Brown, Dark Grey, Aquamarine, Ivory
GROUP II
Deep Orange, Mint Green, Oxford Blue, PO Red, Battleship Grey,
Golden Yellow, Cherry, Blue Clover, John Dee Green, Truck Brown, Signal Red, Cascade Green, Jade Green
Elite Enamel Matt Black ST( Industrial Economy)