Universal Metallics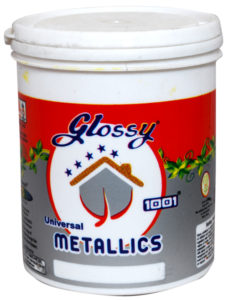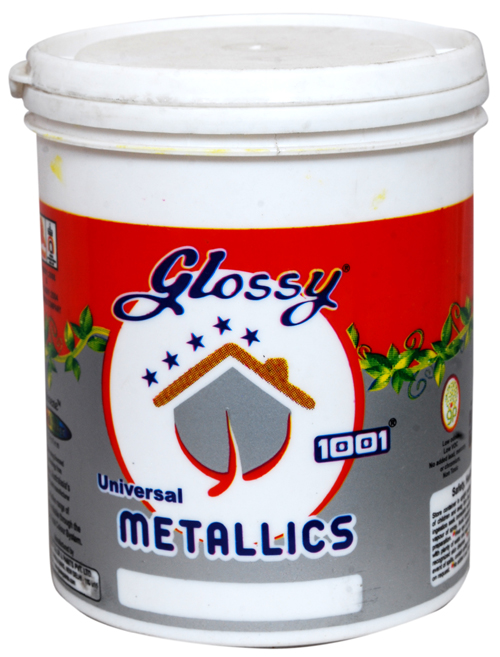 GLOSSY PAINTS 1001 UNIVERSAL METALLIC is an attractive waterborne metallic finish available in a wide range of colors Suitable for interior and exterior work.

Direction of use :

Basecoat :

Strip all loose particles or old paint from the surface through wire brushing and scraping and wipe down before starting painting procedure. Apply required primer depending on the surface as per instructions given below.

Apply full coat of Glossy Paints 1001 Homecare Luxury Sheen Emulsion or Acrylic Plastic Emulsion (For Interior) or Glossy Paints 1001 Weathergold or Weatherlite (For Exterior) one or two coats depending upon the color chosen close to the color of the Glossy Paints 1001 Metallic Topcoat.

Topcoat (Metallic) : After drying the base coat, apply two coats of Glossy Paints 1001 Metallic in the required color allowing at least two hours between coats. Brushing is suitable for small areas and textured surfaces only.
Priming
For Metal : Glossy Paints 1001 Red Oxide Metal Primer.
1 coat
For Wood : Glossy Paints 1001 Synthetic Primer White oil base.
1 coat
For Wall : Glossy Paints 1001 Primer White (WB) or Synthetic Primer white Home care wall putty.
1 coat
Basecoat :

(For Interior): Glossy Paints Homecare Luxury Sheen Emulsion or Acrylic Plastic Emulsion

(For Exterior) Glossy Paints 1001 Wethergold or Wetherite Exterior Emulsion

2 coat

2 coat
Safety, Healthy & Environment Information
Store container in upright position, with lid tightly closed in a cool, dry place
Keep out of reach of children and away from food, drink and animal feed.
May be Harmful if swallowed. In case of ingestion seek immediate medical attention.
Ensure good ventilation at all times.
Do not breathe vapour of spray. Avoid inhalation of dust by wearing suitable nose pad during sanding and surface preparation.
Wear eye protection during application. In case of contact with eyes rinse immediately with plenty of water and seek medical advice.
Remove splashes from skin with soap and water or a recognized skin cleanser.
Do not pour leftover paint down the drain or in water courses.
In the event of spills, contain spillage using sand or earth.
Safety Data Seat available for professional users on request.
No added Lead, Mercury or Chromium compounds.