1001 Homecare Wall putty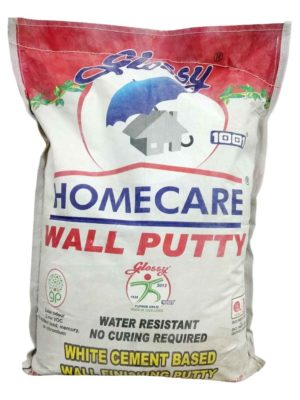 PRODUCT DESCRIPTION
Homecare Putty is a white cement based putty. It provides a protective base for your expensive paints. It's superior water resisting properties prevent the paint from flaking even if the walls are damp. It's used to fill fine pores in walls and ceilings, so you get the smooth, dry surface that's so essential for painting. Homecare putty has better water-resistance, adhesive strength and durability than ordinary putties. Being cement based it has better compatibility with the base plaster and forms a durable base for paints. It can be applied on both, Interior and exterior walls. Making it a mini-revolution in putties!
BENEFITS
1)Protection to Expensive Paints
Homecare Putty is highly water-resistant hence it doesn't peel-off due to dampness/minor seepages in the wall surface. Thus, it remains strongly adhered to the plastered/concrete wall surface and provides a durable base to the top-coat of expensive paint.  Being white-cement based, it is highly compatible with plastered/concrete wall surfaces. After applying, it becomes a part of the wall plaster and this strong bonding makes it all the more durable. Thus, long life of homecare Putty ensures the long-life of expensive paints applied over it.
2) Enhances the beauty of your expensive paints
Homecare Putty is white-cement based and when applied on plastered surface, provides a smooth & white skim-coat. It fills the minor cracks/crevices in the plastered wall and smoothens the surface. Being pure white & smooth, it brings-out the true tone/shade of expensive paint applied over it.
The Coarse (Matt Finish - MF) variant of homecare Putty can be applied in thicker coats (5-15 mm) to cover-up the undulations on plastered surface. Thus, it imparts line-and-level to the wall surface. To make the surface silk-smooth, two coats of Smooth variant (Smooth Finish-SF) of homecare Putty can be applied over the Coarse homecare Putty. Thus, the beauty of top-coat of expensive paint is enhanced when it is applied on a flat (line-and-leveled) wall surface.
3) Provides best value for your money
Homecare Putty is least absorbent of all the options available for skim- coat in India. Being smooth & durable, it reduces the Paint consumption by 25-30% as compared to other options available in the market.
By protecting your expensive paints and retaining its beauty for long, it reduces the re-painting frequency, thus delivering a better life-time value as compared to other products.
Being easy-to-apply, any experienced painter can execute the job, making the painting process hassle-free.
Highly economical as compared to POP (Plaster of Paris), Conventional Putty (Whitening/ Chalk powder mixed with enamel) and Acrylic Putty, as it doesn't need a Cement Primer (before applying Putty) and Paint Primer (before applying Paint). Its high coverage (15-20 sq.ft. / Kg., depending upon the condition of plastered surface) and ease-of-application adds on to the economy as compared to POP.
4) Can be applied on both External as well as Internal Walls
Homecare Putty is the first Cement-based Putty in India which is suitable for both External as well as Internal Walls.
If applied on External Walls, it fills the minor cracks/crevices in the Wall surface and prevents water seepage.
Available in FINE & COARSE (MATT) finish.
Only international standard white cement based Putty in India with Water-resistant properties.
Coarse Putty levels the wall surface.
Fine Putty provides a thin skim-coat, which acts as a protective base for expensive paint.
Packaging: Available in 5 & 20 Kg packs.
APPLICATION
Areas of Application of Homecare Putty:
Exterior & Interior Walls of any building where an aesthetic/decorative coating is desired.
Buildings like Houses, Offices, Shopping-Malls, Bungalows, Outhouses, Farmhouses, Stadiums, Trade & Technology Parks, Educational Institutes, Convention Centres, Airport & Railway Stations, Operas & Theatres, Museums & Exhibition Halls and even Flyover Walls.
How To Use Homecare Putty:
Use "HOMECARE PUTTY (fine)" on plastered surface, as a protective base-coat, before you apply expensive paint.
If the plaster is made with Grey Cement, use "HOMECARE PUTTY (coarse)" to level the surface. Generally, a 6-10 mm coat of this product will remove the undulations.
Over "Coarse" Putty substrate, apply 1.0-1.5 mm coat of "Fine" HOMECARE PUTTY, to smoothen the surface and provide a protective undercoat for expensive paint. The White base will also ensure that the "true tone" of any shade/colour of paint will stand-out (especially pastel shades).
Specification of Homecare Putty - Smooth Finish " SF"
PROPERTY
Homecare Putty- SF
As Per HDB (Housing Development Board)
Test Method

1. Tensile Adhesion Strength (N/MM2) @ 28 Days

>1.0

>0.8 N/M2

EN-1348

2. Compressive Strength (N/MM2) @ 28 Days

>9.0

7-12 N/MM2

EN 196

3. Setting Time (Minutes) - Initial & Final

= > 100 & <= 500

<360 <500

EN 196

4. Water Absorption Coefficient – Kg/M2. H1/2

<1.0

DIN 52617

5. Water Capillary Absorption (ML) @ 24 Hrs.

0.8

Karsten Tube

6. Water Retentivity %

>98

>95

EN 196

The information given above is for general guidance only. Specific instructions for various site conditions can be provided on demand