1001 Synthetic Clear Varnish, Water Proof, Superfine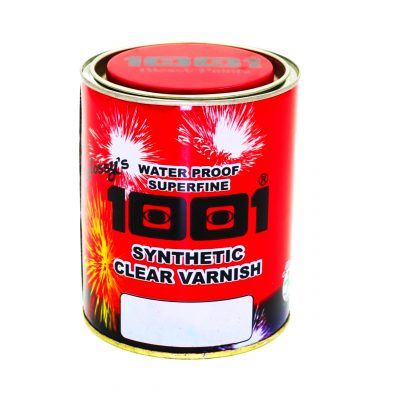 Product Description
1001 Water Proof Synthetic Clear Varnish is a premium hi-gloss hard drying varnish. It provides excellent durability protection to interior surfaces and is recommended for wood and metal. The contents of this tin should be thinned with turpentine etc. The tin should be kept corked when not in use. The contents when once poured out of the tin should not be put back The brush should be kept perfectly clean and free from dust. 1001 Clear Varnish is used as a finishing varnish for wood, previously enamel painted articles, previously painted plasters, building boards. It can also be used with synthetic enamels to get extra gloss. Can be used on all metallic, non-metallic, wood and brick works
| | |
| --- | --- |
| Description : | 1001 Synthetic Clear Varnish for interior and exterior use. It possesses excellent gloss retention, good hardness and exterior durability. |
| Thinning : | Use Glossy's Synthetic thinner 024T |
| Uses : | 1001 Clear Varnish is used as a finishing varnish for wood, previously enamel painted articles, previously painted plasters, building boards. It can also be used with synthetic enamels to get extra gloss. ON all metallic, non-metallic, wood and brick works |
| Finish : | Clear High Gloss. |
| Application : | By brush/Dip/Spray. |
| Covering Capacity : | 18-20 Sq. meters per litre by brush. |
| Drying Time : | Surface dry 1-2 hours. Hard Dry 4 hours (depending on the conditions of temperature and humidity). Re-coatable after six hours. |
| Color Range : | Transparent light pale |
| Packing : | 20Ltr, 10Ltr, 3Ltr, 1Ltr, 500ml, 200ml, 100ml. |
| Highlights : | Proper curing after 24 hrs of air drying. |
| Shelf Life : | 24 Months. |
| Flash Point : | Above 35°C. |
| Undercoats : | Sanding Sealer |
| Application Areas : | On all wooden works, metallic surfaces, brickwork etc |
SAFETY, HEALTH & ENVIRONMENT INFORMATION
Always store in a dry place.
Keep container tightly closed, out of reach of children and away from sources of ignition.
A suitable dust nose pad should be worn when rubbing the surface before painting.
Wear eye protection and nose masks during application.
In case of contact with eyes, rinse with plenty of water and seek medical advice.
Remove splashes from skin with soap and water or recognized skin cleanser.
In case of inhalation / ingestion, immediately seek medical attention.
Do not pour leftover paint into drains. Seal and keep for disposal.