Rakshak Exterior Plastic Paint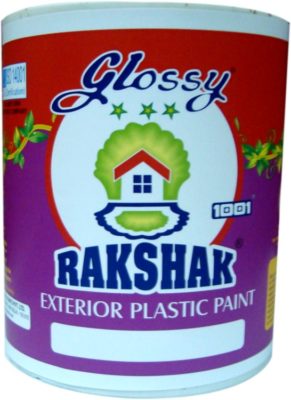 Directions For Use:
Cleaning: Sand the surface with emery paper to remove loose particles, dust, grease and cracked flaked paint. Wipe clean.
Filling: Surface Imperfection such as holes, dents, fine cracks are to be filled with Glossy Paints Home Care wall Putty or a mixture of white cement and fine sand in the ratio of 1:3.
Priming: New surface should be allowed to cure completely apply one coat of Glossy paints Exterior Wall Primer.
Topcoat: Apply 2-3 coats by diluting one litre of Glossy Paints Rakshak with maximum 400ml. of water. A gap of 4-6 hours should be given between two coats. Apply one coat additional on horizontal surfaces like parapets and ledges of windows for extra protection.
Maintenance Tips: For removing stains, clean the surface using a sponge with a mild soap solution. Wipe the surface clean. Ensure a drying time of 1 week before cleaning.
Description :

1001 Rakshak Exterior Emulsion is a water-based exterior wall finish suitable for dry to moderately humid climatic conditions. It offers excellent resistance to chalking, cracking and weathering in comparison to Cement Paint. Rakshak gives cleaner shades which do not fade and last longer. Rakshak offers good anti-algae performance in dry to moderately humid climatic conditions.

Thinning :

Water is used for thinning & Clean Up.

Uses :

Cementous, asbestos & brickwork, plastered surfaces.

Finish :

Matt
Brush, spray or roller

Covering Capacity :

7-9 sq mtr per Litre per Coat

Drying Time :

4 - 6 hrs hard dry

30 Minutes Touch dry

Color Range :

As per Glossy shade card.

Packing :

20 Litre, 10 Litre, 4 Litre & 1 Litre

Highlights :

Exterior  coating

Shelf Life :

12 months

Undercoats :

On prepared surface

Application Areas :

Cementous, asbestos & brickwork, plastered surfaces.
Safety, Health & Environment Information
Store container in upright position, with lid tightly closed in a cool, dry place,
Keep out of reach of children and away from food, drink and animal feed.
May be Harmful if swallowed. In case of ingestion, seek immediate medical attention.
Ensure good ventilation at all times.
Do not breathe vapor of spray. Avoid inhalation of dust by wearing suitable nose pad during sanding and surface preparation.
Wear eye protection during application. In case of contact with eyes rinse immediately with plenty of water and seek medical advice.
Remove splashes from skin with soap and water or a recognized skin cleanser.
Do not pour leftover paint down the drain or in water courses.
In the event of spills, contain spillage using sand or earth.
Safety Data Seat available for professional users on request.
No added Lead, Mercury or Chromium compounds.