Glow in the Dark/ Fluorescent Paint
1001 FLUORESCENT PAINTS ST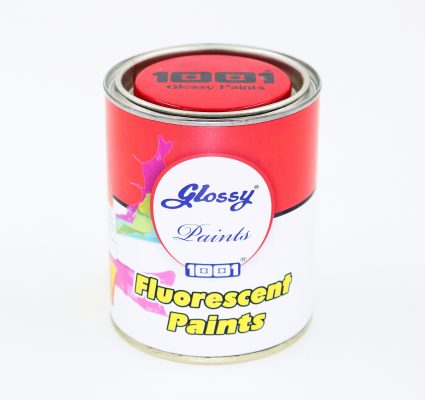 Fluorescent or Neon Paint is widely available in the following shades-
# Golden Yellow, Orange Y, Deep Green, Rocket Red, Pink, and Black   (Other shades are made on customer's request.)
TECHNICAL DATA SHEET- 1001 Fluorescent Paint ST
DESCRIPTION: 1001 Fluorescent Paint ST is a highly visible day time coating or when used under lights at night.
RECOMMENDED USE: Fluorescent Paint is ideal on skips, bollards, bicycles, fishing floats, ships, bridges and more to identify any hazardous object. Used by sign writers, stage crews and artists.
May be used over White Primer to get a better effect of fluorescence. Recommended 2 Coats Minimum of Fluorescent Paint.
Pack sizes:                                                        250 g, 500 g, 1 kg, 4 kg,  20 kg
FINISH:                                                              Matt
COMMON COLOURS:                                      Orange Y, Rocket Red, Golden Yellow, Deep Green, Pink, Black. For making any other shade give us a call.
HEALTH AND SAFETY:                                    Applicator should wear a mask during paint application, use with recommended Glossy's Thinner 024T
WET FILM THICKNESS W.F.T :                75 microns
DRY FILM THICKNESS D.F.T :                  30 to 35 microns
EXPECTED SPREADING RATE:              13 sq.m / litre @ 30 microns D.F.T.
The practical spreading rate may be lower as this depends on factors such as the porosity and roughness of the surface to be painted and material losses during application.
TYPICAL VISCOSITY:                                3.5 Poise @ 25 °C
FLASH POINT:                                           Above 32 °C (closed cup)
DRYING TIME:                                           @ RECOMMENDED D.F.T
          Touch dry: 3 hours @ 20 °C
           Hard dry: 12 hours @ 20 °C
Full hardness: 5 to 7 days @ 20 °C
Low temperature and high humidity will adversely affect application, drying and performance of any coating.
MINIMUM OVERCOATING TIME:              12 hours or overnight
VOC CONTENT:                                            447.81 g / litre
SURFACE PREPARATION:                          All surfaces should be clean, dry, sound and free from contaminants.
MIXING INSTRUCTIONS:                             Mix well before use.
APPLICATION CONDITIONS:                       As dictated by normal good painting practice. In confined spaces, provide adequate ventilation during application and drying.
PRECEDING COAT:                                      1001 White Primer for Fluorescent Paint, Recommended to get better fluorescence.
SUBSEQUENT COAT:                                   Fluorescent Paint (2 coats minimum). Clear Paint (1001 Multishield Coating) can be used as a Subsequent Coat(optional) for longer life.
1001 Fluorescent Paints are available in solvent based and water based.
NAME
PACK SIZE
MRP
1001 Fluorescent Paints (Solvent Based)
20 Kg
9610
Shades: Golden Yellow, Orange Y, Deep Green, Rocket Red, Pink, Black
4 Kg
2050
 1 Kg
573
Glow-in-the-Dark Paint
Glow in the dark/ Phosphorescent/ Luminous/ Luminescent/ Retro Reflective Paint is available in green shade. It is charged by sunlight. It is commonly sold in 1 kg size containers. Smaller or larger packings are available on request.
Instructions to use:
1. Clean the surface from dirt, dust, oil, before applying glow in the dark paint.
2. A white base is recommended to get brightest glow effect.
3. Apply multiple coats to get the best effect (3-4 coats)
4. Stir well before use and close the container after use
5. Store at room temperature, away from direct sunlight.
6. Let the painted surface charge in sunlight for an hour or more. Then move the surface to a dark area to see glow in the dark effect.