Elite Artists Acrylic Metallic Colours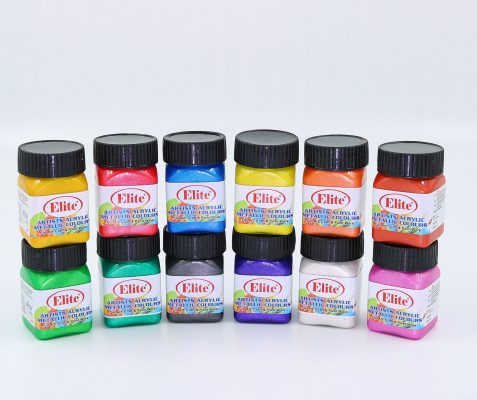 Elite Artists Acrylic Metallic Colours Set (Multicolour set) (50ml each)
Elite Artists Acrylic Metallic Colours by Glossy 1001 are non-toxic, versatile and can be used on multiple surfaces such as cloth, metal, stone, canvas, wood, POP, concrete, brick, paper, cement, walls and terracotta.
These colors are intensely luminous, facilitating prominent display and instant identification.
These water based colors prevent chipping when the painted surface is folded.
For Multi Surface use
For Art, Craft & Paint Work
Paint Medium: Acrylic Color
Container Type: Bottle
Paint Application: Cloth, Metal, Stone, Canvas, Wood, POP, Concrete, Cement, Walls, Terracotta, Brick Paper Other
Paint Features: MULTIPLE SURFACE USE
Number of Paint Shades: Set of 12 shades, 8 shades or 4 shades (50 ml each, multicolour)