Heat Resistant Black 400 Degree Centigrade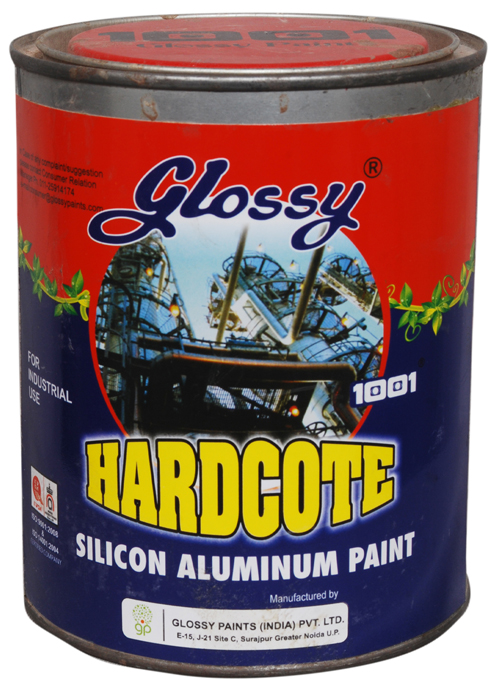 INSTRUCTIONS FOR USE OF HARDCOTE  SILICONE ALUMINUM PAINT
HARDCOTE HT 400 – FOR 250°C TO 400°C Dry Heat Resistant
HARDCOTE HT 600 – FOR 400°C TO 600°C Dry Heat Resistant
HARDCOTE is a heat resistant aluminum paint based on silicon resin medium designed for protection of steel at elevated temperature. It is used for protection of stacks, kilns exhaust system, incinerators etc.
SURFACE PREPARATION : Surface to be coated with HARDCOTE should be thoroughly clean and free of rust, scale. Dirt, oil and grease and other contaminants. Surface must be dry and cool.
APPLICATION : Stir thoroughly before and occasionally during use. For initial application two or three coats are required by conventional spray or brush. For brush application use a flat brush only. Avoid repeated brush strokes bor better luster. Generally no thinner is required for brush application. For spray application, thinner upto 5% may be required.
CURING : Apply 1st coat. Air dry for 24 hours. Alternatively heat cure at 200°C for 1 hour after 4 hours of air drying. Apply 2nd and 3rd coat similarly. Allow the system to dry overnight and then slowly raise the temperature to working temperature (initial increase upto 200°C over a 6 hours time period)
THINNER : Use GLOSSY HT Thinner for best results.
WARNING :
Check actual skin temperature before selecting these products. It dose not cure and remains for until heated at minimum 200°C for one hour. Painted component should not be handled without heat curing.
In confined spaces provide adequate ventilation during application and drying. This is also essential for health and safety of the painter.
The fumes given off can be dangerous. Provision laid in factory and boilers act must be adhered to, including the use of flamefroof light, forced drought ventilation and safety lines.
Avoid applying thick coat since that may cause blistering/delaminating.
Please refer to separate technical data sheet and safety data sheet available on request. If in doubt regarding suitability of use of these products, please consult Glossy industrial Paints division.
| | |
| --- | --- |
| Description : | It is better known as HR 400 Degree Centigrade coating being manufactured with superfine powdered Heat Resistant Carbon Black dispersed in silicone vehicles, which resist heat upto 400°C (Either continuous or intermittent exposure to heat). It is an unique Industrial and maintenance heat resistance coating. |
| Thinning : | Glossy Thinner 023T |
| Uses : | Where High heat resisting coating is required |
| Finish : | Smooth and Lustrous |
| Application : | By brush or Spray |
| Covering Capacity : | 15Sq. Mtr. per liter with 25-35 microns d.f.t |
| Drying Time : | Touch Dry - 1 Hr. Hard Dry - 4-6Hrs. Tack free - Over Night |
| Color Range : | Lustrous (Silver) |
| Packing : | 10 Ltrs. and 4 Ltrs. only |
| Flash Point : | Above 25°C |
| Undercoats : | Self |
| Directions of Use : | Surface should be cleaned and rust free, Preferably use blast cleaning or alternatively manual. Generally priming is not required but For corrosive atmosphere and temperature upto to 400°C, Special PRIMER as undercoat is necessary |
| Application Areas : | Exhaust Manifolds boiler doors, smokestacks electrical equipments etc |